Do you have a round hairbrush? Great! You can use it for so many different things that will help with your hair. As someone who has always struggled with my hair, I am always looking for new ways to make it look nice. This blog post is about using your round brush in several different ways, and hopefully, some of them are helpful.
I used to have a round hairbrush for years, but I never knew how to use it. It took me some time, but now I know all the ways you can use your round hairbrush! From styling your bangs to curling your ends, this is an essential tool that every woman should have.
I hope this blog post will help you find new ways to use your round hairbrush.
A round hairbrush comes in handy for many reasons. It can be used to smooth out the frizz, create volume, or tame your mane. The size of the head can vary from small to large depending on your needs. Here are some ways you might already use a round hairbrush at home:
To brush tangles out of wet hair after shampooing
To dry straightened locks with minimal heat damage
To style your bangs

Blow-dry hair with a round brush
For a voluminous and healthy-looking blow dry, use a round brush to create waves and bounce. This technique is ideal for long, thick hair that has been straightened with heat or chemically processed.
Try these techniques: Start at the roots and work your way down as you blow-dry in small sections.
After drying one section, switch to an adjacent section to dry each part from root to tip.
Once all the roots have been dried, slide the brush over the entire length of hair from scalp to ends before starting on another section.
When styling curly hair, use a round comb instead of a brush to smooth out any frizzies while adding volume to your roots.
You've just finished styling your hair with a flat iron, but it's still not quite right. So you grab your round brush to blow dry your hair, and you're instantly in love. Your locks are shiny, smooth, and healthy-looking. The best part is that the heat from the blow dryer seals in moisture, so flyaways look sleek instead of curly.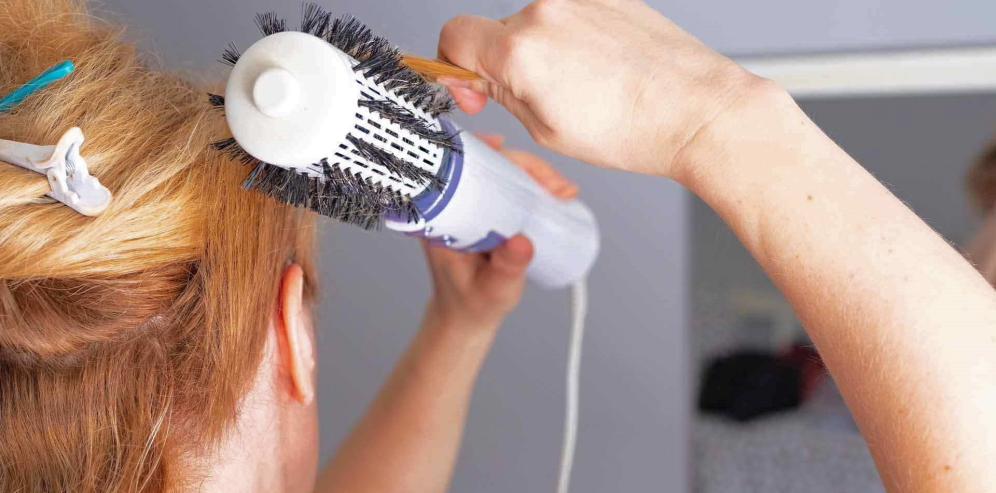 Curl hair with a round brush
It's a dilemma many women have faced: how to curl hair with a round brush. It can be tricky! But it doesn't have to be.
It's no secret that most women want to have ahead of gorgeous, shiny hair. So curl your locks with a round brush for a bouncy, voluminous hairdo. Here are some helpful tips and tricks on how you can achieve the perfect curl!
Start by brushing your hair from root to tip in long strokes, starting at the back of your head and working towards the front. You'll then take sections of hair about an inch wide, wrap them around the round brush as if it were a clock face (starting from 3 o'clock) and hold for 10 seconds before releasing.